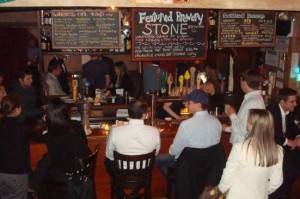 The Stag's Head will be hosting the Chelsea Brewing Company on Wednesday evening (1/13) from 6:00 p.m. to 8:00 p.m.  Pat Greene of Chelsea will be on hand to answer any questions you may have regarding the free beer you are drinking.  I have been told the beers on hand will include:
Bourbon barrel aged Imperial Mild (barley Wine)
Hop Angel IPA
Blue Berry Wheat
Frosty's Winter Wheat
(Possible) Sunset Red (Pin)- CASK
Chelsea Stout
Chelsea Blonde
The Stag's Head is one of my favorite beer spots in New York, and I have always been a big fan of the reasonably Chelsea Stout. I am really look ing forward to trying some of the brewers other offerings.  I should also mention that Chelsea's brews are the only beers made here on the island of Manhattan (on Chelsea Piers).
Lets all go out Wednesday evening, drink some free beer, and support the blossoming beer movement here in New York City.
The Stag's Head Address:
252 East 51st Street @ 2nd Avenue, New York, NY 10022  |  212-888-2453