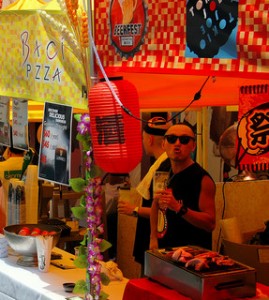 Yesterday, while engrossed in beer conversation at the launch party for a new Hong Kong beer distribution company, this Trappist Punk sadly made two realizations: 1) We've allowed this site to become terribly dilapidated; & 2) I have an intense hankering for almost any Dogfish Head or similar top notch east coast brew.  This led me to ask the owner of what seems to be a very promising distribution company about the chances of acquiring said beer in a corner of the world mostly devoid of America's finest brewed creations.  Sadly, he informed me that not only did this seem unlikely, due to capacity limitations Dogfish has actually stopped distributing in his home state, Wisconsin.  (This should be in another post, but if you are ever in Milwaukee, make sure you give the guys over at Lakefront Brewery a couple hours of your time.)
Well, I thought, at least I asked, and to the company's credit their repertoire includes a robust selection of Rogue beers, which I quite enjoy.  For those reading this in Hong Kong, the company is called Hopleaf and they sell retail.
Today, sitting at my PC, I came across a headline that gave me a glimmer of hope that one day (albeit probably not until I move back to the U.S.), Dogfish may finally be able to service Hong Kong — and Wisconsin again, for that matter.  The headline read, "Dogfish gets OK for warehouse build."  I know — not that startling. But the catch was deeper in the article:
"The brewery will produce 171,000 barrels of beer in 2012. While it hopes to expand to 500,000 barrels of production within the next 10 years, Benz said there are no business plans to do so at this time."
That's quite an increase and maybe enough to get a few bottles out to Hong Kong.  The bottom of the article also indicates that Dogfish recently received approval to expand their current facility, which maxes out at about 200,000 bottles of beer a year.   While I am not expecting to taste Dogfish Head at next year's Beertopia festivities in Hong Kong, I do think that as Hong Kongers continue gaining a better appreciation of American Craft beer, in no small part thanks to the guys at Hopleaf, Hong Kong may become an attractive lucrative market for all those beers I miss so dearly. By 2015, Euromonitor data — quoted by the Canadian government, strangely enough — suggests that Hong Kong beer consumption will rise to 75 million liters from 73 million this year; I suspect with availability of the right American craft beers this could easily rise above 80. Here is a link to the original article.