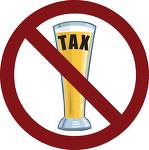 Earlier this year H.R.836 was introduced to the House of Representatives, if approved this bill would it would reduce the federal excise tax on beer from US$18/barrel to its pre-1991 levels of US$9/barrel.  In order to better understand the history of beer excise taxes the Punks contacted our Capitol Hill liaison Jeffrey Last, and this is what he had to say on the matter:
Excise taxes on alcoholic beverages are amongst the oldest in the history of the United States.  The first federal tax was established in 1791 as a short lived budget measure to pay off our debts from the Revolutionary war.  This tax has been reinstated several times in our history, not surprisingly either after wars, i.e. the War of 1812, to pay off debts or in the run-up to arms, i.e. the Civil War, as a means to finance them.

It was when the tax was reinstated during the antebellum period, the years just prior to the Civil War, that it was extended from just spirits to all fermented beverages including those we know and love as beer and ale.  Additionally, this tax has prevailed to the present day (minus prohibition); where today it exists at a rate of $18 per 31 gallon barrel for large producers and at $7 per barrel for smaller producers, ones that produce less than 60,000 barrels a year.  This tax is universal, so foreign and domestic brewers are equally impacted by it.

While I am in no position to determine what impact this tax has on the domestic brewing industry, I can give you the numbers on the revenue it creates and leave the judging to you.  In fiscal year 2007 the federal beer excise tax generated $3.8 billion with $3.3 billion coming from domestic brewers, and $500 million from imports.  Keep in mind these are just revenues from the federal tax of $18 per barrel.  Each state has its own excise tax that ranges from the lowest in Wyoming of $0.62 to the highest in Alaska of $33.17(ouch).

While the federal tax isn't earmarked for anything specific other than a revenue stream, the state taxes are usually levied as a means for paying for certain state programs and initiatives.  For example, Arkansas uses their excise tax to fund education and child care development funds.

There have been many justifications for having an excise tax, both federal and local, on beer.  Some argue that these so-called "sin taxes" are a great tool for curbing habits that are deemed less than healthy, while others see them simply as a tax on a luxury item.  However, there are those who feel the rate adversely punishes lower-income individuals and feel it should be lowered or repealed.  In fact, there have been efforts by Congress recently to halve the federal excise tax on beer.

Regardless of your personal views on the matter, keep this in mind. When you go out to the bar and order a pint of your favorite brew, between 40 and 44 percent of what you pay is the various excise taxes being passed on to the consumer.
Thanks Jeff!