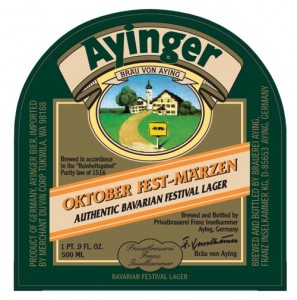 The Punks' favorite German brewery, Ayinger has a seasonal beer on its way that you'll want to keep an eye out for. For those of you unfamiliar with Ayinger, they make category killing brews in just about every style of German lager:
Celebrator Doppelbock (i.e. double bock)
Ur-Weisse Dunkel Weiss (i.e. dark wheat beer)
Brau Weiss Hefeweissen (i.e. cloudy wheat beer)
Altbairisch Dunkel (i.e. traditional bavarian dark lager)
We've tried them all (save the 100th anniversary Jahrhundert), and not a single one fell short of a four out of five, with myself in particular awarding Celebrator and Altbairisch Dunkel a full five due to my penchant for all things dark. Now we get to add the Oktober Fest-Maerzen to the list.
Maerzen beers are so called because they're brewed in March (Maerz in German) to mark the end of the traditional brewing season, and lagered for many months in underground caves (at least they were in the days before refrigeration) before emerging in late summer and playing a key role in annual Oktoberfest celebrations. Oktoberfest started in Munich in 1810 as a celebration of the wedding of Crown Prince Ludwig to Princess Therese, who gives her name to the fair grounds on which the festival takes place, the Theresienwiese. It has been celebrated with great gusto nearly every year since, starting in late September and continuing for 16 days, ending in early October.
Maerzen beers are different from many other German lagers, in part, because the longer lagering period necessitated that they be brewed to higher gravities (i.e. higher alcohol content) and that more hops be used in the brew, both of which improve shelf life of beer. It is this higher hop rate (German noble hops of course!) that gives the beer that recognizable "fest-spicy" character that many of us think of when we think of festbiers, though American examples probably overemphasize this character. This is another reason I can't wait to try some German examples now that fest season is upon us again.
Keep an eye out for Ayinger Oktober Fest-Maerzen starting after mid-August.