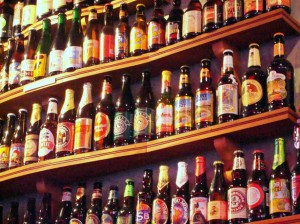 It was a weekday afternoon, and things at the Sunset were slow. The staff was killing time, no doubt talking about beer and pouring a lot of samples for the customers, as they sometimes do when there's nothing left to do. Then it happened. In from the street walked a living legend…Billy Joel had entered the Sunset.
He took a seat at the bar, surrounded by an entourage, and asked for a beer list. He was ill prepared for what came next, as he was handed not a sheet of paper, but a book, with pages upon pages of beers from the world over, ever major style from every country imaginable. Flipping, flustered, through the many pages, he asked
"You..uh..got a lot of beer here, huh?"
"Yes, that's kind of our thing…" the bartender replied.
"You got PBR?"
…As luck would have it, they did indeed have PBR; inexplicably since few people likely order it in this environment. So the story goes…
This is my own beloved local, the Sunset Grill and Tap, and I can tell you that the Pianoman's story is far from unique. After all, who would expect such a wide selection of beer for all price ranges so close to the campus of Boston University, in the decidedly un-glamorous Boston neighborhood of Allston; this isn't Back Bay or Beacon Hill after all. And yet there it is, like a diamond in the ruff (not to discount another gem, Deep Ellum, just down the street).
No, this is a very common tale; many's the time that I sat at this bar taking notes on many a fine beer, and witnessed the confusion of a newcomer to this unassuming place when handed the beer list. I must look like I belong, almost like a permanent part of the decor, because questions often follow. Rest assured, I and many others here are more than happy to play tour guide, so if you find yourself here, don't be afraid to ask questions, not only of the staff, but also the patrons. Who knows, if I had been there, poor Billy might not have gotten stuck with a PBR after all.
Just as you shouldn't be intimidated by the clientele, don't be intimidated by the list either. So many choices may be daunting at first, but in time you'll come to understand that it just makes the place more versatile. If one can't find a beer they like in the Sunset's ever-evolving catalog of 112 taps and hundreds more bottles, you aren't likely to find one anywhere. The beer menu is well organized (this is not a trivial point, because I've been to some places out west that could use some work in this area). The options are great in every category, with indications next to most of the beers showing what scores they've received in online polling, and stars next to the top choice in a given category. My only knock against the menu itself is that they need a "what's new" section for regulars such as myself so I needn't spend a half hour sifting through the menu every time I go there.
The bartenders always seem willing to provide free tastes of anything on tap (this would be all the beers on the back cover of the menu). I'd say as long as you order some beers to go with your samples, I've never seen anyone get turned down on a sample. They also offer a range of serving sizes, though I usually go with the default. Do be careful to watch the prices on anything you order though; I've been known to accidentally order a $20 bottle of Brooklyn Local One Saison one night when I'd had one too many and wasn't paying attention. But as a budget conscious Mike was quick to point out in leaner days, they always have a great selection of fantastic taps at $5 or so. If you're willing to step up just a bit, they've got many more for 6 or 7.
As I stated in a previous article, the Sunset is a fantastic place to try a cask ale, they serve up a mean Dogfish Head 60 Minute from time to time, especially. Another very special section of the list is the meads. These are fermented honey, sometimes with malt or spices and herbs added, and taste like something between honey and wine, but somehow better than both. The Sunset has a wide selection of them, which is rare no matter where I've been. Mead isn't really my thing, but certain Punk's have been known to exclaim "where have you been all my life" with the first taste. Truly something worth trying, even if it doesn't stick.  It led us to brew our own batch, results yet to be seen…
The place also has its fair share of intimacy, with many nooks and crannies to choose from. In fact, this could be seen as either an advantage or a disadvantage depending on perspective; I've often complained that the large wall splitting the place in two limits the sociability of the bar area by taking up standing area around it and limiting movement and the cross-pollination of conversations from one side to the other, but at the same time it creates a much more intimate feel that can be welcome at times, either for dates or for deep discussion among friends.
As for the food, you tend to be safe with anything latin-inspired (gigantic nachos, quesadillas, fajitas, etc) and anything involving the hummus. Overall the food generally doesn't disappoint, but I would stay away from the barbecue sauce; I'm not a big fan. Also, plan around huge portions for everything. A good strategy is to bring people with you and share whatever you get. If you are still hungry afterward you can always get another plate of something.
I should also point out that there is a pool hall upstairs (Big City) and a Tequilla/Margarita Bar just down the street (Sunset Cantina) that are both owned by the same wonderful people. Mike and I have been to the Cantina, it struck us as a slightly more sociable atmosphere than the Sunset G&T, and with a respectable 38 beers on tap. It offers a nice compromise for the group with a mix of beer drinkers and non-beer drinkers, if the two should ever associate. One word of caution, however: do not order the $50 or $60 margarita…the cost of the drink is the cost of the tequila shot that goes into it; just drink the shot. The bartender there told us they always serve the shot on the side for those and recommend drinking them separately (often being ignored). There is a good reason they do that. We've never been to Big City so I can't say anything about that, but I'd be willing to bet their beer selection is second to none among pool halls in this city.